Classiest pic of a butt on fire I could find
Well, life has been a little crazy but not because I scored some kind of sick book deal. If you remember in this post, I was a mite disturbed by the possibility of not teaching in the fall since adjunct teaching limits had been lowered. Even though the Obamacare/Affordable Health Care Act regulations have been pushed back to 2015, this does not affect any of the changes put in place, by my college at least, so I ended up picking up classes at various other colleges. Now (at this moment, and it's always changing even though most schools start next week), I'll be teaching eight classes at four different colleges. Some of them I don't have textbooks for yet. AHHHH!!!! Allow me to paint you a mental picture. The fire that has been lit under my butt is so large, fierce, and consuming, that my butt is about to melt off…but in a good way, sort of. Really, really thankful to have more than enough work, but I will feel better once I'm a week or two into my new routine and have all the materials I need to do a good job.
Oh no! Turn the page! Turn the page, man!
So what's happening in the world of A Fearful Thing? Nothing too exciting, but some action has occured. Anne the Agent checked in a couple of weeks ago, letting me know that an editor at Kensington had passed on my book. The editor didn't give much feedback other than religious thrillers (which, I guess you could call my book that, but I wouldn't really label it that way) aren't her thing and my book didn't grab her. She must not have made it to the final chapter where a beast/monster literally springs out of the pages and grabs the reader by the neck. Paul suggested I start making an Enemies List of everyone who had rejected me. I told him that wasn't practical since I'd already been rejected by so many agents, and also because I started making that list in kindergarten and it's getting kind of full.
Obviously, hearing an editor has passed on your book isn't a great feeling, but I'm not especially worried just yet. In her email, Anne the Agent mirrored what I'd heard from other writers: Summer is an awful time to try to sell a book. A the A said that she, "made the decision to only go out to a couple of editors because of the timing. Summer is a bad time for submissions because so many people are on vacation that things tend to just sit on editor's desks. [She] only went to editors that [she] know[s] well and would respond in some sort of timely fashion."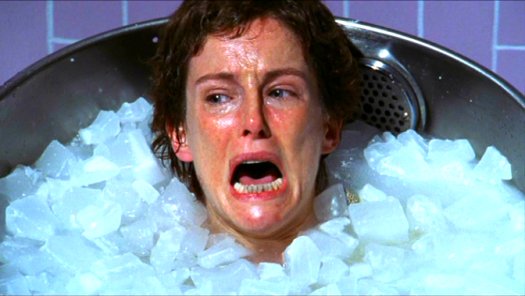 Cold but necessary. Prob. won't go neck deep, but who knows
So more waiting, which is fine because I have more than enough to keep me occupied. The timing of my newfound busyness is a little unfortunate because I had just started mapping out Book Two which will be my next post. But for now, I need to cool off my butt. Anyone got a bathtub full of ice cubes I could borrow?